Jurassic World (2015)
Directed: Colin Trevorrow Rated: PG-13 Runtime: 2h 4m Studio:
Screenwriter: Rick Jaffa, Amanda Silver, Derek Connolly, Colin Trevorrow
Cast: Chris Pratt, Bryce Dallas Howard, Ty Simpkins, Nick Robinson, BD Wong, Vincent D' Onofrio, Judy Greer
Jurassic World is built on the foundations of the Jurassic Park Trilogy. "Welcome to Jurassic Park" is one of the most iconic lines in a movie in the past thirty years. Audiences' love of this franchise has endured because it's a solid, fun story. The bar was set high for Jurassic World.
Now, you don't need to have seen the original films to enjoy this one, but some moments and scenes pay homage to them. This film dives right into a dinosaur theme park that's been open for years. Thousands of people have come and gone. In this premise alone, this film exceeds its predecessor. Yet, it was the most logical place to continue this franchise. One of the attributes that work in this series favor is that no one has copied it or tried to reboot it in three decades. That makes the opening/title sequence of this film so smile-inducing. The music, imagery, and font are iconic and give the audience a taste of what's in store.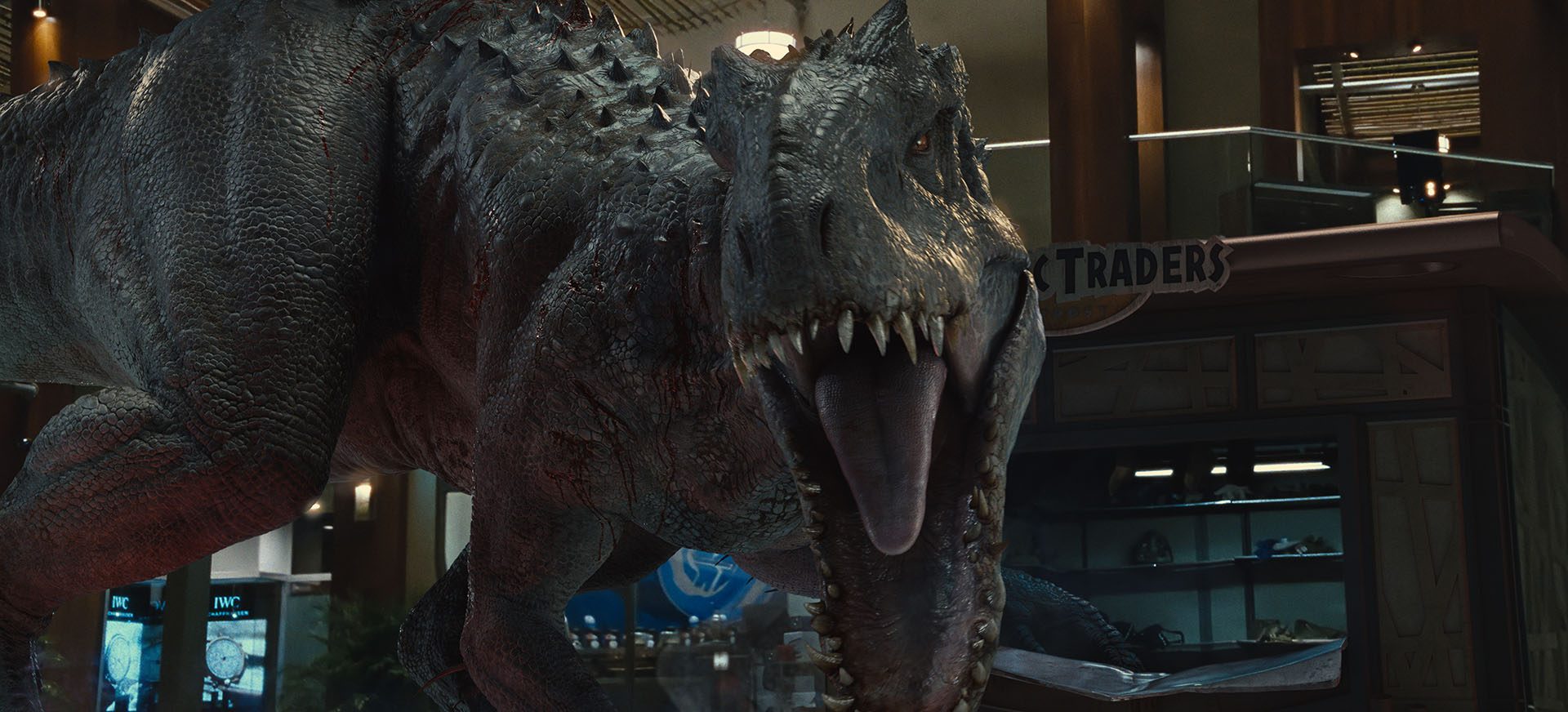 Viewers get to see this lush, detailed, rich island theme park environment with attributes that would absolutely pull in customers if it were real. Despite the obvious concerns of such a park, emulating the hallmarks of resort theme parks, visually and practically, makes it a huge step up from John Hammond's original park.
While it's not essential, per se, to the plot, I have questions. What happened to the remains of the original dinosaurs, the first-generation ones that died out? How long did that take based on the lifespans of the varying breeds? Jurassic World has been open for years; how long is that? They needed time to survey, tear up old structures, build new ones, and create the new dinosaurs. With all the time involved, how did no one learn from the events of the last three films?
A tremendous benefit of new technology and CGI advances is that the animals look much better! More realistic. It allows the actors to interact more efficiently with what ends up being added after the fact, all the things that chase them. BD Wong is back as Dr. Henry Wu, the curator/creator of the resurrected dinosaurs. Here his character is evolved, given greater scope. In the first film, he's a younger lab man who's not truly part of the plot. In Jurassic World, his inclusion is one of the story's main threads, granting the franchise a more robust continuity. BD Wong is a talented actor with a range of characters depicted in his filmography, and I'm glad they could get him back to reprise this role.
I love Bryce Dallas Howard as Claire, the director of operations of Jurassic World. She's polished refined, but with grit. Her performance, energy, and presence as the work-a-holic auntie-in-charge of a workplace gone sideways are brilliant and fun. Her chemistry with Chris Pratt's Owen Grady works too. He's the perfect mix of sassy and 'those things will eat you alive, keep your shit together' employee you'd want to work with. Once upon a time, people wanted to dig up dinosaur fossils as a career with more earnest; now, in a world with living dinosaurs, you can train them, like Owen. Specifically, he trains raptors. The methodology behind this practice on-screen is believable enough not to be questioned, letting the viewer enjoy its idea.
You can't have a theme park without kids, so of course, Jurassic World has a few of its own. Claire's nephews Zack (Robinson) and Gray (Simpkins) visit the park as everything goes wrong. They add a needed layer of youthfulness and extra characters to be at multiple places on the island. Their addition helps immensely with pace and permits more settings, dinosaurs, and action sequences.
Jurassic World is an example of what happens when you ignore history-it will repeat itself. Denial may get you eaten. This installment of the Jurassic franchise has more people, more teeth, and more spectacle. It's a fun movie worth a place on your watchlist.
-A Pen Lady