Doctor Strange in the Multiverse of Madness (2022)
Director: Sam Raimi Rated: PG-13 Runtime: 2hr 6 min Studio: Marvel Studios
Screenwriter: Michael Waldron Cast: Elizabeth Olsen, Benedict Cumberbatch, Xochitl Gomez, Rachel McAdams, Benedict Wong,
Doctor Strange in the Multiverse of Madness is a dark, trippy departure from the previous Marvel film template. It's not quite as psychedelic as the first film but leans into a darker/horror-ish vibe attuned to director Sam Raimi's style.
While Raimi's style is fully displayed in so many aspects of the film, a subtler undertone is trying to understand how Wanda Maximoff (Olsen) got to where she is as a character in this movie. So before viewing this film, you must watch the Marvel TV show WandaVision; first, it will answer things the movie won't address. Once you're all caught up, it's a decent story and plot if you can overlook that Sam Raimi didn't even watch all of WandaVision, just bits of certain episodes. It solidifies how Marvel Studios values its female characters, willing to sacrifice them for their prized goal of story continuity between projects. It's a practice that truly needs to stop! The film starts with a leap right into the action and the introduction of a new character, America Chavez (Gomez), and a version of Benedict Cumberbatch's Dr. Strange.  
While the audience doesn't learn much about America as a character in this film, it's clear her character is a bridge into the next phase of the MCU and shows new blood (and abilities) to work with as the original Avengers are all but gone. This was inevitable after Endgame, and while I thought Multiverse of Madness would play off of the events in Spider-Man: No Way Home, it takes the multiverse reality introduced in Spiderman and mashes it together with WandaVision. This opens up or gives room for a different Wanda/Scarlet Witch down the road (or any of the Avengers) because initially, Wanda/Scarlet Witch originated as a mutant in the comics. This fact is paramount because Marvel can finally introduce (let alone utter the word) mutants in the MCU.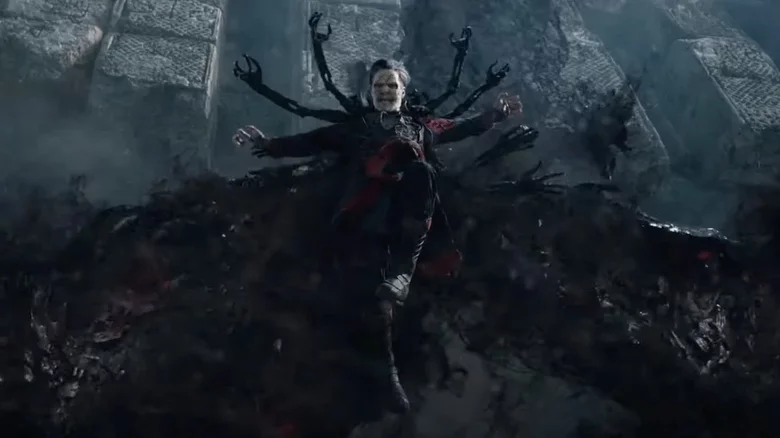 While Wanda has gone down the dark magic rabbit hole, thus pitting her against Dr. Strange, Olsen and Cumberbatch give excellent performances. They've both embodied their respective characters for a while now, and they are clearly comfortable with the mannerisms and energy that make them shine. But it's not just the performances and the directing that work for this story; it's the choreography, sound editing, CGI, costumes, and various set designs! In a multiverse, everything is the same, but somehow just a bit different. How many ways can you dress up a New York street? Revise the Sanctom? In these areas, I say, well played and well done.
The area I'm hung up on is Wanda's journey to her point in Multiverse of Madness. I think writers really did Wanda dirty. She starts off as this traumatized child who is studied and used and lost loved ones. She finds a new type of family in the Avengers, certainly with Vision, but after the events of Endgame, they're all gone or abandoned her. She's essentially a traumatized adult with no support or resources. She goes from hero to baddie in a deep breath (the blip) and is shunted aside for the sake of franchise development. It sends a terrible message about loss and mental health, a stark contrast to the support group Steve Rogers led in Endgame. That's all without factoring in Wanda's power upgrade she (clearly) doesn't have a handle on. Power corrupts absolutely, indeed!
So while I'm not a fan of where the writers have taken Wanda's character, Elizabeth Olsen certainly does a fantastic job of depicting a formidable badass. I look forward to seeing her character again and where Dr. Strange goes into the next phase of the MCU and America Chavez's role within it. It's not my favorite MCU film, but it's not the worst and if you have time, make a place on your watchlist for it.