Last Night in Soho (2021) Directed: Edgar Wright  Rated: R  Runtime: 1h 56m  Studio: Focus Features  Screenwriter: Edgar Wright, Krystal Wilson-Cairns  Cast: Anya Taylor-Joy, Matt Smith, Thomasin McKenzie, Diana Rigg, Terence Stamp, Michael Ajao
The 60s are alive once more through the fashion trends and set designs quintessential to the decade in Edgar Wright's Last Night in Soho. A dark, captivating story with suspenseful twists and a great cast. Its plot makes this time-traveling thriller an underdog movie amongst similar billings. 
Eloise (McKenzie) is a sheltered country bumpkin who travels the same path her dead mother once did; to be a fashion designer. Raised and encouraged by her grandmother Eloise seems detached from the modern, everyday world. Yet to make it as a fashion anything in England, London is the place to go. So, Eloise leaves home to attend the London College of Fashion. Eloise struggles in the dorms, becoming so downtrodden by the disillusionment of reality she leaves the dorm to rent a room off-campus. The writer's choice here is to move the story along, but it strips Eloise's character of the ability to grow as a person. This film's dark unlying theme is a women's lack of choices or autonomy. 
Once settled in her new space, she discovers something, like a portal to Narnia or Wonderland. Eloise is enveloped and inspired by the 1960s vivid glamour. The mysterious singer, Sandy (Taylor-Joy), and her manager, Jack (Smith) in her dreams until it turns foul. Are they dreams, memories, or time travel? Why does she stay when most people would run away screaming? Wright goes back and forth; he isn't entirely clear. Nor is it clear if Eloise is an observer or participant in what she sees. It's never explored and can seem like a plothole that should have been addressed upon first viewing. However, Wright likes to blur certain aspects, so maybe there isn't one correct answer. This film is psychological.
The movement between Sandy's actions and Eloise's observations is (cinematically) well shot and edited. This facilitates in blurring reality and the dreamscape of past events. The lighting and music also cement the tone and pace of a given scene and the film overall. Edgar Wright makes it easy to watch but, in reality, involves a lot of forethought, takes, and editing. I applaud any movie with a detailed, rich plotline that doesn't cause hiccups or continuity errors. Last Night in Soho is packed with details and aspects that make the characters' lives plausible. None more so than Sandy.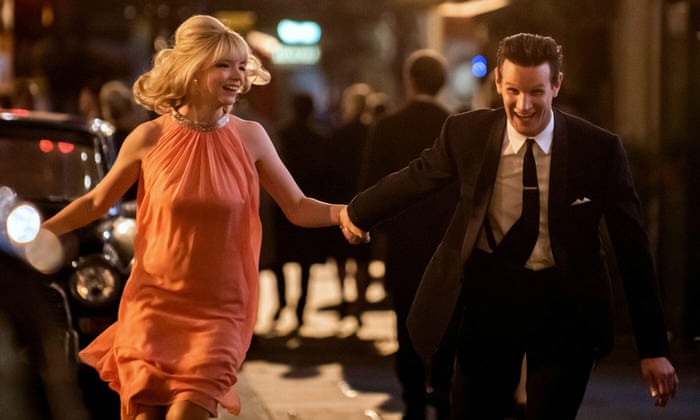 Anya Taylor-Joy has had a busy last couple of years with a wide variety of roles to her credit. This movie is another notch off of genes she can pull off. While Eloise is the vehicle that gets us to Sandy, Sandy's character is the star of this film. Her journey connects to everything in this movie—the twists and emotional resonance fuel the narrative. 
Last Night in Soho isn't a horror film. It's psychological, thrilling suspense with layers. I appreciate a screenplay that's written and cast well and was not disappointed. Anya Taylor-Joy, Matt Smith, and Diana Rigg are all wonderful in their respective roles in this film. Each brings professionalism and gravitas to their character's places within this movie. A perfectly cast, well-directed story of ambitions, the spotlight, and the nightlife of Soho in the 60s makes Last Night in Soho worth a place on your watchlist. 
-A Pen Lady