Directed: Mark Fiennes  Rated: R  Runtime: 1h 47m 
Studio: Searchlight Pictures Screenwriter: Seth Reiss, Will Tracy  
Cast: Ralph Fiennes, Anya Taylor-Joy, Nicholas Hoult, Hong Chau
If you spend $1,200 to eat at the most exclusive restaurant in the world, accessible only by boat, you'd expect four-star service and food. You'd expect to be wowed and to go home full. Right?
The Menu is a film set up like a chess board, and I don't know squat about chess. But, it has all the pieces in the form of the chef, staff, and varying levels of self-entitled, uber-wealthy elitist wannabes. The story moves with each clap of chef Slowik's (Fiennes) hands. A new move on the board, a plot development, or character development (of sorts) is revealed, just like the courses of food served.
The setting of The Menu is on a secluded island, the boat ride to said island and the dining room. It's difficult to tell a compelling story when the cast stays in one room. Yet it's not the setting that holds The Menu back; the plot does.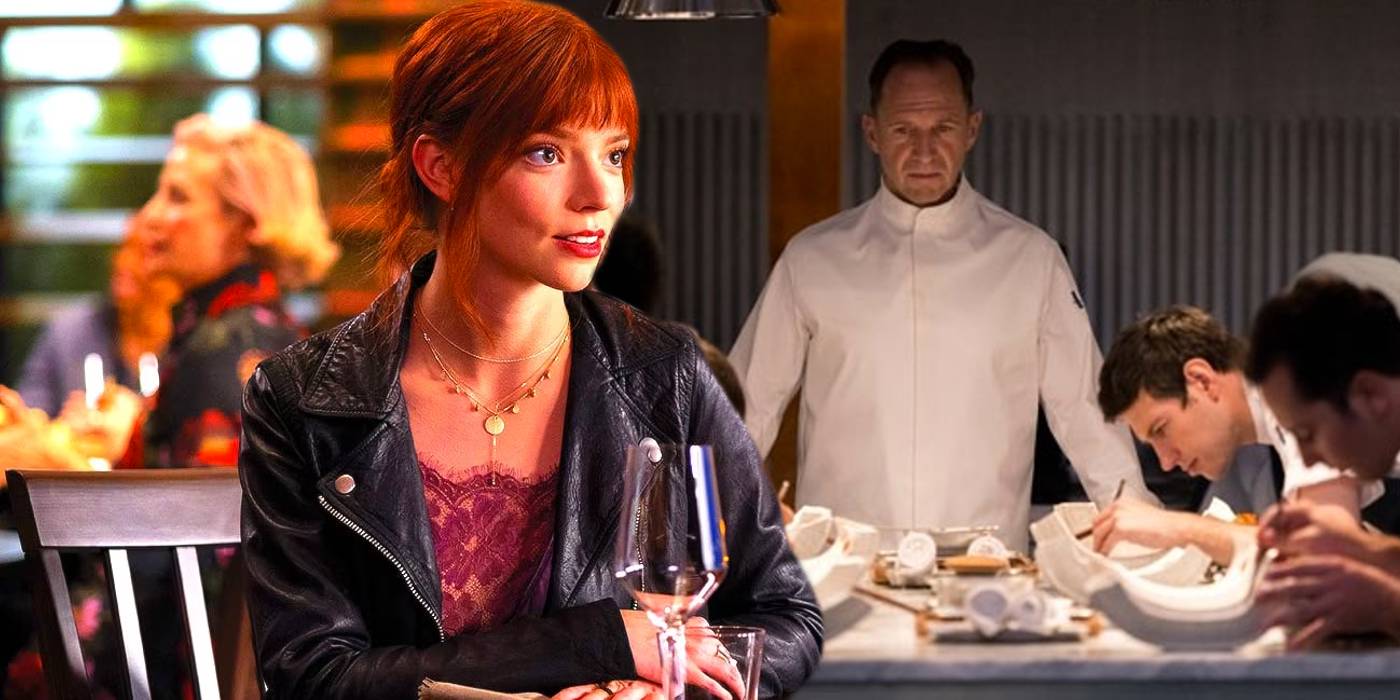 At first, I was intrigued by the odd behavior of some of the characters because I had no idea where the story was going, but it didn't bother me. It's all part of the "wow" one would expect. Dinner and a show. Yet, every character is overly critical or thinks they're gods gift to food bloggers. Was I watching a movie or actors performing a skit based on bits from Twitter posts or Instagram? I waited for the revelation of why events were happening, let alone in the highly bizarre way they were depicted. When it came, I was vexed by the premise. This was the springboard for the story! Irritatingly unoriginal. I want to slap screenwriters Will Tracy and Seth Reiss.
The writers went through the effort of crafting a "horror/thriller" with a lavish tasting menu on a secluded island with "shocking surprises" and a talented cast. It was tagged as a "dark satire" film, but the satire doesn't come through. The only thing that comes across is a control freak chef who's lost the joy of cooking and takes it out on anyone who's ever held him in high regard. Chef Julian Slowik is the pinnacle (fictional) example of a toxic disgruntled boss. Though Ralph Fiennes is an excellent casting choice for someone to play calm, composed one second, calm and menacing the next. He always exudes a commanding presence in his roles, and Chef Slowik is no exception.
There are a handful of other notable casting choices that round out the cast: Janet McTeer, John Leguizamo, Judith Light, and Paul Adelstein, to name some, who are all underutilized as actors in this film. But, some roles are supporting and nothing more. In this film, they're pawns. Reflections of today's YouTube "experts," Instagram "influencers," ego-driven money bags, and those that have seen one too many cooking shows. All of them are there for an experience that none of them actually stop to appreciate.
More than pawns are Hong Chau, who plays Elsa, one of Chef's most trusted staffers, and Nicholas Hoult as Tyler, a self-professed foodie. Both are enamored with Chef and are prime examples of what happens when people adhere to blind loyalty. Sometimes we should never meet our heroes. Then there is Margot (Taylor-Joy), the exception to everyone else at this dinner from hell. A dozen people were invited to this dinner, and Margot was a last-minute fill-in. She did not factor into the painstakingly detailed menu Chef crafted for his guests. How will he adapt? After all, his menus are one of a kind. Works of art.
I wouldn't go so far as to call The Menu a horror film. A suspenseful thriller, yes. The movie is strange, intense, and at times a dark comedy. It had so much potential to be this dark horse thriller but fell short because the premise for the plot was too close to life imitating art. Again, we all have social media and cooking shows for that. That lacking foundation to screenwriting ruins what otherwise could have been a wonderfully dark, twisted display of 'what the fuck!'
The Menu promises more than it delivers. It isn't worth a place on your watchlist to fill your appetite for a positive cinema experience.
-A Pen Lady