Director: Tony Kaye    Rated: R    Runtime: 1 hr 58 min    Studio: New Line Cinema Screenplay: David McKenna Cast: Edward Norton, Edward Furlong, Ethan Suplee, Avery Brooks, Stacy Keach, Elliot Gould, Fairuza Balk
There are only a handful of reasons a film holds up over time, let alone can be labeled as excellent or a masterpiece of cinema. American History X holds up because of the topic, but is that a good thing? The parallels between this film, fictionalized as it is, since the 1990s and now are disturbing. This film centers around the four R's: rhetoric, rage, racism, and a form of redemption.
American History X's story revolves around reformed neo-Nazi skinhead Derek's (Norton) goal to keep his younger brother Danny from following in his lifestyle footsteps after release from prison. The timeline and events leading up to Derek's incarceration (for three years) are shot in black and white, while the timeline and events following his release from prison are in color. This lends a sense of gritty gravitas to the storyline; cinematically, it works. The story flows well despite some underdeveloped sections. For only Edward Norton's second major role, this film is still one of the top five of his work to date. For me, it really is one of the best performances of his career.
It's not just Norton; the entire cast performs well, considering their characters are horrible examples of humanity. Derek's hate and buried humanity are balanced by Dr. Sweeny's (Brooks) goals to mentor those everyone else would wash their hands of.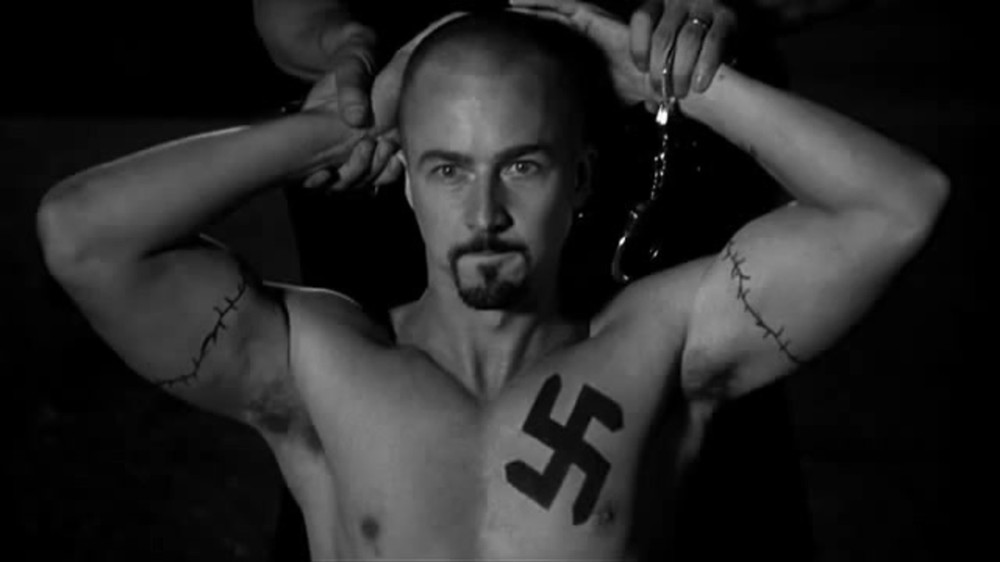 This film is dark and violent, too much for some or a-typical for Americans, but it's rooted in factuality, making films like this difficult to watch. At its core, American History X (tries to effectively) represents hate, rage, ignorance, and (part) of what fuels it. More than that, how it's possible to move beyond the twists in information, hate, and ignorance. Something that's not often depicted well in films. Movies like this can act as mirrors to how we see other groups or ourselves as we are in the world, making us ask questions that might not otherwise occur. I think those are some of the best examples of great cinema.
American History X isn't great, though; it's a very good film, but not great. That's because of the underdeveloped areas within the story. Derek's time in prison is rushed and could have been better fleshed out to make us feel the shift in his personality. There's a scene where everyone is at dinner, and Derek's father is talking. You can see where the notions of racism might have taken root for Derek and Danny, but it's so weak compared to Norton's lines in the scene that it comes across as undercooked filler. Those are a few non-spoiler examples that could have done more for a film with so many turbulent themes taking place simultaneously. At just under a two-hour runtime, it could have been a little longer and done more for the main character's arcs, but it's not bad for what's packed in there.
American History X is intense, captivating, psychological, and savage. It deserves its R rating and is best viewed by those over sixteen due to the content. It may end up being a film you only watch once in your life, but at some point, it belongs on your watchlist.
-A Pen Lady