The Red Sea Diving Resort (2019) Directed: Gideon Raff  Rated: TV-MA  Runtime: 2h 9m  Studio: Netflix/Bron Studios Screenwriter: Gideon Raff  Cast: Chris Evans, Alessandro Nivola, Greg Kinnear, Haley Bennett, Michiel Huisman, Michael Kenneth Williams, Ben Kingsley, Chris Chalk, Mark Ivanir, Alex Hassell
The Red Sea Diving Resort is an inspirationally touted film that forgot to include anything inspiring. 
The film opens with a voice-over, narrating the scene and thus explaining the story's point. The voice is Kebed's (Williams), one of only three black characters who have a meaningful, yet minor, role. This opening scene highlights (immediately) two of the biggest problems with The Red Sea Diving Resort. First, Raff must explain every detail he thinks you won't understand. Second, white people are the saviors of the black Jews fleeing Ethiopia.
This movie is based on actual events. Mossad agents did spend years in Sudan using a previously abandoned seaside resort to smuggle black Jews to Isreal. Raff's problem (as writer and director) is that he only told one side of the story. He included nothing of meaningful resonance of these Beta Jews (as they are known). And there were opportunities to do so. With a story as significant, meaningful, and layered as these missions were for all involved, it's a repulsive display of systematic racism. To gloss over the black characters as much as he did, propping them up only to facilitate white characters is repugnant. How did Netflix find this a good screenplay?
Gideon Raff is Israeli but couldn't find any of his people to star in this film? Did he look? Did people say no? That's a red flag. So enter the American-sounding and looking beach chic Ken and Barbie (Evans and Bennett). Mixed with a British actor (Kingsley) who uses non-Jewish slang (calling people' chaps') all while not even trying to lose his own accent. 
Raff depicts Mossad as this spy agency with a cowboy mentality likened to the American wild west in a story whose premise is built upon the necessity of teamwork and planning. It's okay when trouble pops up; Ari's (Evans) got it. As if positive thinking alone will save anyone from certain death if they're caught. There is a team of agents with Ari, but none are fleshed out, well-rounded, or have satisfying arcs. As members of the white savior club, you think they'd be important, but they're not.
The third black character with any significant lines or screentime is Commander Ahmed (Chalk) that Ari refers to as Colonel or nothing. He's the leader of the Mukhabarat, a "military organization" that terrorized Sudan. None of that information is touched on, or the underlying reasons the Beta's flee in the first place. Nor the call to action that involved Isreal in the first place; you won't learn about that in this film. So you must take at face value that Chalk's character is the physical manifestation of why these people are fleeing Ethiopia. Yet it doesn't do the depth of their reasons justice. For such an important character, you think it would have been easy to figure out the character's name or the actor who plays him. You'd be wrong. I had to turn on my closed captioning feature to find out Chalk's character's name, which isn't even uttered until near the film's end. I had to look through articles on this movie for the actor's name to find it. Chris Chalk's part in this film is not included under a Google search for the cast of this film, nor on IMDb.com (I'm not affiliated with either). Chalk's character is another example of Raff's poor filmmaking skills or Chris Chalk's wanting everyone to forget he was in this movie. It's sad because Chalk's performance was one of the few that displayed any effort or emotion.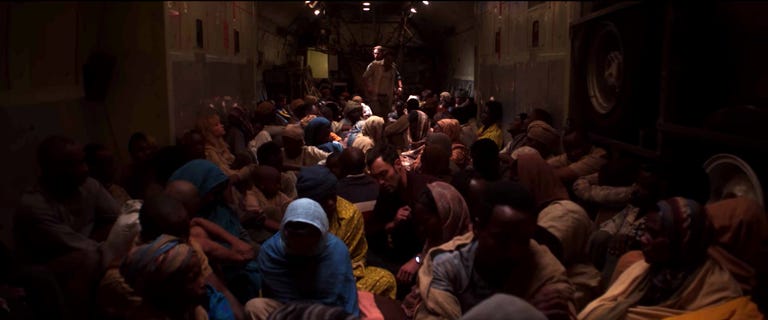 Now Gideon Raff is the same man who gave the world Homeland and the limited series The Spy. Raff won awards for these; perhaps he should stick with just television.
The Red Sea Diving Resort is a grossly missed opportunity to take a story with two already entwined entities and tell a whole and compelling story. As it stands, the black characters were depicted as poor, desperate, violent, or greedy. This depiction may have been the reality of the time, but Raff gives none of these characters any form of agency beyond their choice to flee. Those missed opportunities for nuanced realism are tragic. It's an injustice to those this story is supposed to also tell.
A poorly written script with no character development and lackluster acting is worth no one's time, especially one that systematically snubs half of this story's reason for existing. The Red Sea Diving Resort isn't worth your time or a place on your watchlist.
-A Pen Lady