Iron Man (2008)
Directed by: Jon Favreau Rated: PG-13 Runtime: 2 hrs 6 mins
Studio: Paramount Pictures & Marvel Entertainment
Screenwriters: Mark Fergus, Hawk Ostby, Art Marcum, Matt Holloway
Created by: Stan Lee, Larry Lieber, Don Heck, Jack Kirby
Cast: Robert Downey Jr., Terrence Howard, Jeff Bridges, Gwyneth Paltrow, Clark Gregg, Paul Bettany, Jon Favreau
Iron Man isn't the first superhero film out there. Not by a long shot. It will, however, be remembered as the first film of the Marvel Cinematic Universe (MCU). The one that launched Marvel into its golden age of cinema.
For those keeping track, this film is third chronologically.
Tony Stark is Iron Man, and they are played by Robert Downey Jr. (RDJ). RDJ's depiction of the decades-old character is spot-on in multiple ways. It's as if Tony Stark was a real person at some point in time, then reincarnated into RDJ, who would go on to play… himself. It's rare to find an actor/actress who performs so well in character you forget it's not real. But that's how well RDJ cultivated this character.
The original material and RDJ's natural charm and charisma were only two of the three ingredients that brought Iron Man to the masses. The third is director Jon Favreau. A genius for casting and creating in his own right. RDJ's casting approval from Marvel came from Favreau not taking no for an answer to RDJ's inclusion in the film.
If Iron Manis your favorite Marvel character, now or ever, because of the films, thank RDJ (duh!) and especially thank Jon Favreau.
Tony Stark/Iron Man's story originally began in Vietnam. Shifting it to Afghanistan constructs a template for modern-day events and cultural relevance.
Both settings represent tension, greed, and war efforts, a sign of the respective times in each place. And yet, cinematic Iron Man follows his comic book material in de-escalating his companies role in war. A bold move considering the ongoing war in 2008. Still, the writers and Favreau re-crafted Tony Stark's origin story to grow from that and not suffer the fate of his book material's namesake. This Iron Man was destined for bigger things.
A rich weapons manufacture turned humanitarian, turned hero works as a plot. Audiences get to see the process, how it's made, how it works, how much it can do, how far it can go. It's a nerd and engineer's dream.
The supporting cast members are terrific! Pepper Potts (Paltrow) is exactly right, as was Terrence Howard as Col. Rhodes. Their personalities and demeanors are an excellent counter-balance to Tony's self-indulgent, eccentric, hyper-focused qualities. Obadiah Stain (Bridges) is the representation of how many view those that run gigantic companies. Hopefully without the literal cutthroat mentality. Bridges never has to work for presence in his scenes; he exudes it naturally.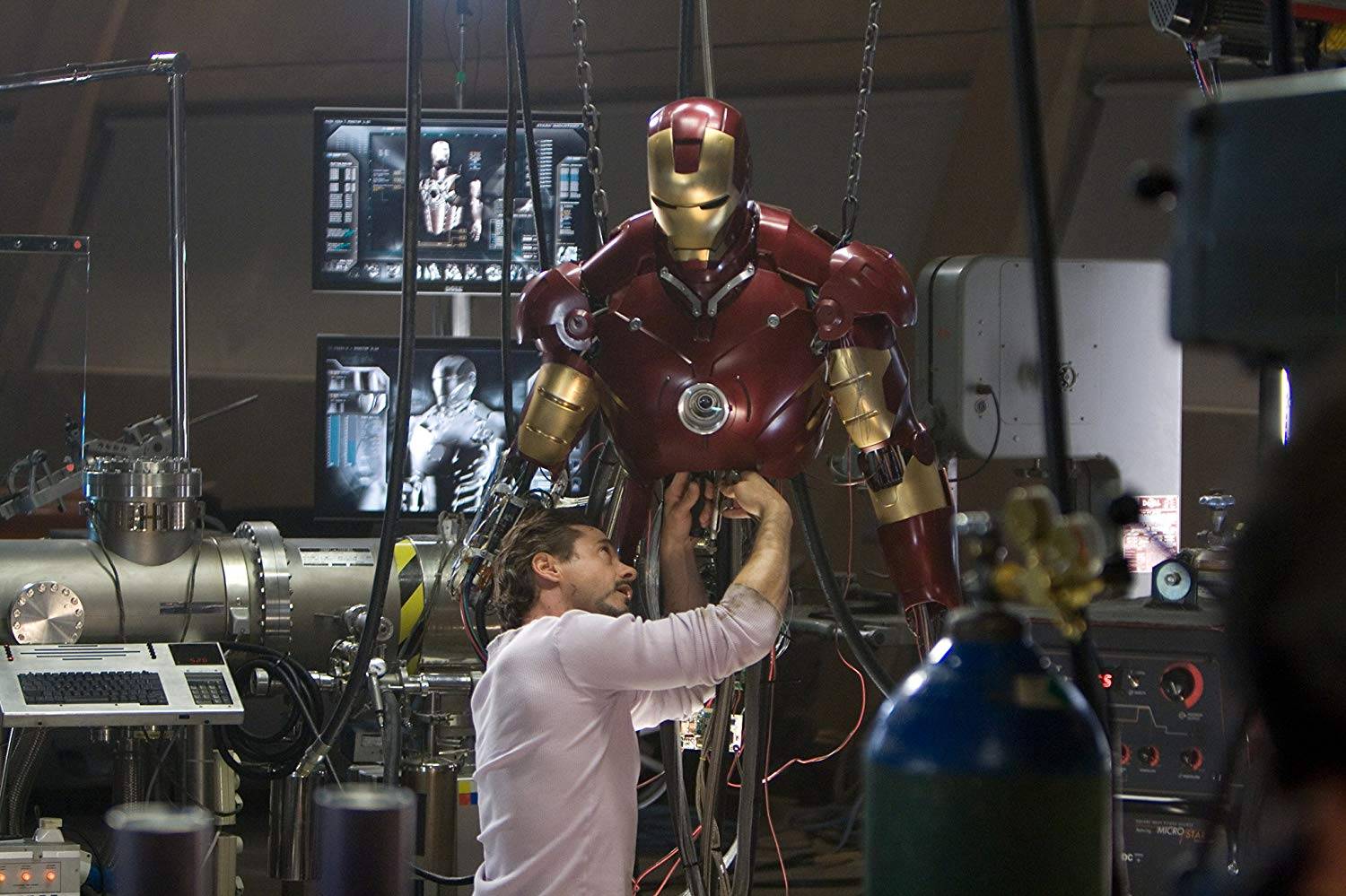 The pace is something this story has from start to finish. Between the dialogue or action sequences, it flies along, shifting from scene to scene with ease.
Iron Man is more than explosions and destruction and amazing CGI. It's rooted in the human condition and a compelling story with fantastic acting. The costume, a prop designed mainly through CGI, helps establishes this illusion of realism. A tool to keep Tony Stark alive, to right wrongs, and boggle the minds of engineers everywhere.
While Iron Man isn't this writer's favorite Marvel character or a top-five MCU film pick, it's worth a spot on your watchlist. Alone, or indeed, if you've decided to follow the MCU road.
—a pen lady