MAX ( 2015)
Directed by: Boaz Yakin Runtime: 1 hr. 51 mins. Rated: PG
Studio: Warner Bros. Pictures & MGM  Screenwriter: Boaz Yakin, Sheldon Lettich 
Cast: Carlos, Robbie Amell, Josh Wiggins, Mia Xitlali, Lauren Graham, Thomas Haden
Church, Luke Kleintank
The people who put together the trailers for their respective movies and create something like Max's trailer should have them fired or smacked upside the head. Bad trailers happen with alarming frequency. Max is another film that suffers from morons while editing. It should be a category for a Razzie award. I add the trailers to the movies I review as a convenience to you, the reader. However, if I add the trailer for Max, it's like I'm giving the plot away. I usually don't watch movies where I feel like I just saw the film after seeing the trailer. What would be the point of that? Yet the trailer for Max does just that. Back when this film came out, I still had a Belgian Malinois, like Max, so I saw it based on that. 
Max is a film based on a fictional American military working dog of the same name. Max (Carlos) is handled by Marine Kyle Wincott (Amell), who dies in Afghanistan. The events that lead to Kyle's death leave Max unable to perform as trained, and he is sent back to the United States. Kyle's family is given the option of what to do with Max, as he cannot be handled due to his PTSD. The one person he 'accepts' is Kyle's younger brother, Justin (Wiggins).
Justin is several years younger than Kyle. Wiggins portrays the self-absorbed, sulky teenager with a chip on his shoulder better than most "teenagers" are depicted. Compared to the rest of the humanoid cast members, Justin's character is the only one with depth. The film, more or less, is about Justin and his relationship with Max, so it's bearable.
While Max is semi-predictable and lacks any deep character development, it does highlight its themes well. How processing grief is healthy, courage, and character. For what it does well in those areas, it creates stereotypes in others.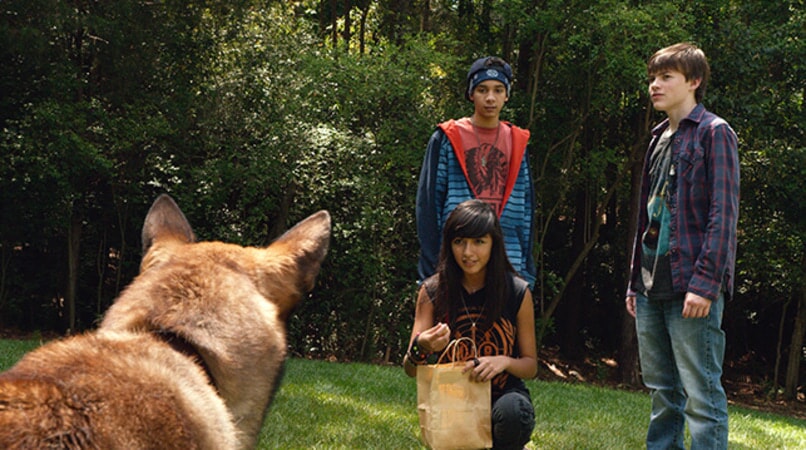 The Wincott family hasn't had Max long in their home when a friend and former service member Tyler (Kleintank) arrives back in town. He and Max clearly don't like one another, yet no one seems to notice. Yakin does nothing to hide that Tyler is trouble; in the same way, Justin's parents (Church and Graham) are obliviously stupid when necessary. Yakin also put no effort into anyone in this movie, sounding like they are from Texas. It's not complicated.
So, Justin learns how to own a dog, let alone one like Max, with the help of his friends (not his parents). The plot unfolds with Justin's mistrust of Tyler's reason for leaving the Marines. Deepening into more of an edgy, back-to-school special, modern-day Mystery Inc. storyline. If Scooby-Doo was a fearless bad-ass and not a cowardly eating machine and the gang all got around on bikes and not in a van.
This film is full of areas I can point out as logistically wrong. Still, its target audience is best appreciated by those 10-16 years old. Or those like me who enjoy seeing a Belgian Malinois on the big screen. Really, it makes me miss my dog. Sometimes we all need a dose of sappy. Max is a decent film that's pace moves along well enough to keep a parent or kid engaged until the end.
This movie is undoubtedly under the lens of Americans and their working dogs in Afghanistan. It can also be appreciated by anyone connected to or served with K-9 handlers from any country. Yakin tried to honor the working service dogs of the military, and does to a point, but could have done more with a better script.
Max is a feel-good movie that is meant to tug on your heart, to make you appreciate the efforts of K-9 military service animals. It does that, more or less in a tolerable way. While adults may like it, many younger viewers will love it. With that in mind, Max should find its way onto your watchlist.
—a pen lady